---
Papua
Welcome to this web page. It is presented by the Delegation of Papua, Indonesia of the Order of Saint Augustine. Thank you for learning more about us.
. . Selamat datang ke web-site ini. Halaman-halaman ini disajikan oleh Ordo Santo Augustinus, Regio Papua, Indonesia. Terima kasih atas kesediaan anda mengetahui lebih banyak tentang kami.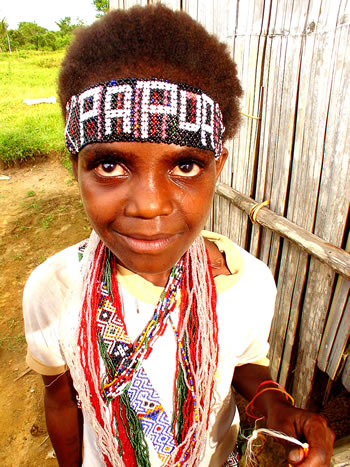 Papuan girl with headband.
Papua is a region of Indonesia. Members of the Roman Catholic religious Order of Saint Augustine first went from Holland to Papua in 1953. Today in Papua there are five Dutch-born and thirty-three Indonesian-born Augustinians.
Puteri Papua dengan ikat kepala
Papua adalah Provinsi ke-26 Republik Indonesia. Para anggota Ordo Santo Augustinus datang ke daerah itu pada tahun 1953. Sekarang ini Ordo terdiri atas 5 Augustin kelahiran Belanda dan 33 Augustin kelahiran Indonesia.